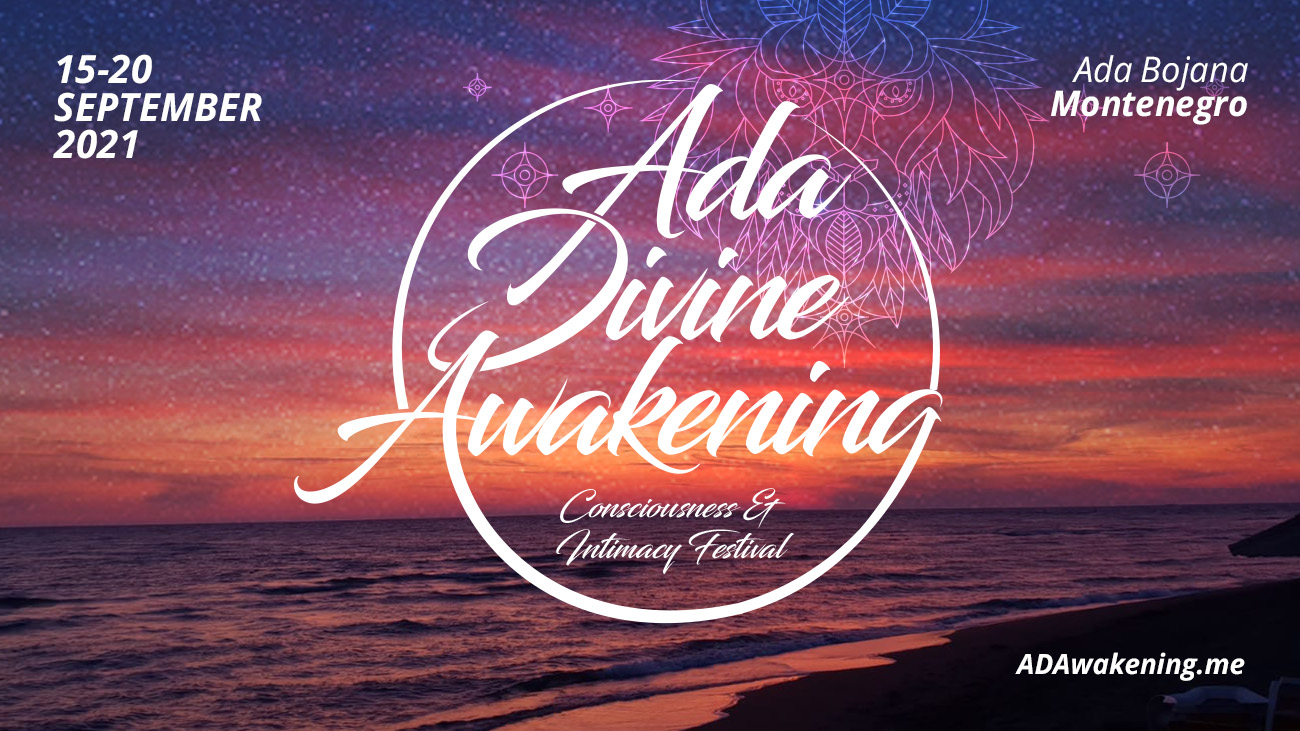 Ada Divine Awakening is a conscious initiative, movement, gathering and a step into connection on a body, mind, spirit and expression level. It is an act of liberating from the reality of social constructs and limitations. It's a perspective that we take for our own, and a benefit of the whole community.
ADA will be a meeting point with a purpose to release, express and embody conscious relationships – with themselves, others, and the divine.
For 6 amazing days, from 15th to 20th September at Ada Bojana in Montenegro, we come together for the first Consciousness and Intimacy festival, to celebrate the awakening and spiritual union of the goddess and the divine masculine within us all!
The beautiful island of Ada Bojana carries a powerful legacy of honouring our sacred sexuality and allows us to let go of shame, guilt and fear. We will build on that legacy and empower our tribe to break through old patterns as we deepen in our freedom, love, and intimacy through workshops, breath, yoga and meditation practices, sound, movement, connection, and celebration!
Ada Bojana has a long history of breaking through the patterns of patriarchy and inhibitions – and She is now ready to fully heal and raise with three main elixirs that we all need to integrate in order to acknowledge that we all are divine beings.
The magical ingredients we are using on our way to eternal bliss, waking the LIFE force, are gratitude, vulnerability and intimacy.
Gratitude
Our starting point is acceptance. We know that everyone is doing their best. We honor the soul and history of the land we are on. We leave no trace. We take radical ownership for our own experience.
Vulnerability
Our community is a trauma-informed safe space. We are radically inclusive – anyone is welcome to join us. Feelings are welcome to flow freely here – we share our experiences courageously.
Intimacy
We celebrate full presence and participation. We step in and take the leap. We start with the relationship with ourselves first. Intimacy requires integrity. We set, communicate and respect boundaries.
How will workshops bring the Elixirs of Ada to the People?
We have structured workshops in the way that these three elixirs are there in each one of the workshops presented at the Festival. Our carefully selected teachers will be sharing their love, knowledge and wisdom protecting the Principles, Purpose and the Mission of the Festival to support Ada Divine Awakening in all of us.
Workshops will offer different themes like: / Workshops will cover these themes and fields:
 Mindfulness, Relationships, Emotional Science, Embodiment and lots of FUN!
As part of our principles is radical inclusivity, through our workshops we offer different perspectives and ways of healing.
We support the freedom to choose any of the ways that work for you to feel safe and inspired to grow.
Whether that is a super amazing yoga session you had in the morning or an intimate partner workshop where you'll be flabbergasted with the communication skills you just learned/ discovered or an Ecstatic Dance in the evening – you have the FREEDOM to choose your Medicine and surrender to Ada's power to heal.
This consciousness and intimacy festival is bringing Ada's Elixirs to everyone who is ready to take them. Freely and at their own pace. Through workshops and experiences they choose. Present and in the flow. With teachers, they feel drawn too.
• Consciousness: mindfulness, mediation and personal development
• Intimacy: health, communication and relationships and sacred sexuality
• Fun and music: soulful singing, live performances and ecstatic dances
The festival brings together artists and facilitators from 3 core knowledge domains:
 • Promotion of local artists and content
• Acceptance and integration of any and all belief systems
• Trauma-informed facilitation and support systems
• Sharing scientific research if it has been collected to date
Be ready to dance, raise your energy, and celebrate your creativity with your tribe Move, connect, and have fun!
Book your journey now at www.ADAwakening.me